Few people have a perfectly even skin tone after childhood. Even if they do, skin tones can often change throughout the year and throughout life due to the fact that the skin is constantly open to exposure from the harmful rays of the sun, which can tan or discolour the skin, redness caused by acne or broken capillaries and more.
Discolouration of the skin can appear in various forms such as freckles, redness and 'age spots', to name but a few. You can even get discoloured patches of skin that are paler than the rest!
An uneven complexion can leave people feeling insecure, and no one wants to feel less than confident in their natural skin! Luckily, there are many products available that can enable you to even out your skin tone for a bright and healthy complexion.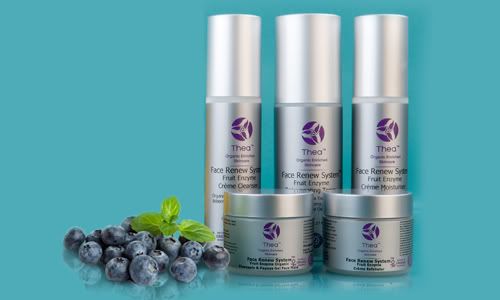 Thea Skincare's 100% Natural Skin Brightening Range
Here are my recommendations…
Exfoliating scrubs
Exfoliation is a very important part of your skincare regime as it removes dead layers of skin to leave you with a soft, smooth and rejuvenated complexion. Exfoliating scrubs are embedded with fine granules which, when rubbed in gently, will remove those dead skin cells that cleanser simply can't get rid of.
You'll reveal newer, fresher, softer, healthier skin cells that are below, which will greatly help to make your skin tone appear bright, healthy and even!
Moisturizers
If skin is not kept well hydrated it will appear dull and unhealthy, which can lead to an uneven and patchy skin tone. The skin will also become very dry and it may then begin to flake and become irritated, causing red patches.
So it is absolutely essential that you hydrate your skin twice a day – yes, even if you have naturally oily skin! You should choose a great moisturiser designed especially for your skin type, to lock in moisture and make your skin appear nourished, revitalised and smooth.
Also, as the sun can cause skin discolouration it is vital that if you're going out in the sun a lot you keep your skin very well moisturised, not just on your face but on your body too – anywhere that the sun hits!
Skin Brighteners
If you moisturise and exfoliate regularly and still find you have an uneven skin tone, don't despair as there are plenty of specific skin-brightening skin care products that will brighten dull and dark patches for a complexion that glows with health!
Fruit-enzyme skin brightening products act as bleaching creams, but without the harsh chemicals, to achieve a bright, even complexion as gently and naturally as possible! When using some skin brightening products it is often recommended that you apply sunscreen to the area of the skin after use if you'll be going outdoors, as they can ake your skin temporarily more sensitive.
Do you know of any other products to even out a blotchy or uneven skin tone?
About the Author: Michelle Star writes for Thea Skincare, a 100% natural, organic skincare brand whose ranges include a skin brightening complexion for gorgeous, glowing, even skin!
Related articles